ØM3/u with USB cable
Compatible with 5V Power Packs
€ 49.95
(incl.19%VAT | EU only)
ØM3/u is a powerful outdoor/bicycle/head lamp with a USB plug. You can operate this lamp with commercially available USB chargers. Works only when connected to 2A USB output ports.
Package content: ØM3/u lamp, 2 Silicone-O-Rings, helmet mount + extension cord
Product weight: 140g / 4.93oz
Shipping weight
287 g / 10.1 oz

FREE SHIPPING WITHIN GERMANY
FLAT SHIP RATE WITHIN THE EU + Switzerland: 7€

SHIPPING RATE TO NON EU-COUNTRIES:
Up to 500g 7€ | 500g to 2kg 39€ | 13€ for each extra kg
The Øm3/u is one of the brightest USB powered LED lamps currently available. It can be connected to any USB interface, such as 5V external battery packs, notebooks or USB car adapters. External battery compatibility makes this light the ultimate choice for outdoor enthusiasts seeking a versatile and flexible lighting system.

Small size & so powerful
The Øm3/u delivers a smashing 950 lumens, giving you plenty of visibility for trail riding and riding at night. It has a medium beam spread to produce a truly fantastic off road light.
This lamp unit is ideally suited to the rider who is looking for a single light that produces good width and length in the beam of light, with more than enough power for a single off road night light system.
We equipped the Øm3/u lamp with three XML-U2 LEDs – one of the most efficient, high power LEDs on the market.
Works with any USB backup battery
The Øm3/u is a versatile and powerful system that provides the perfect light for any outdoor night activity.
Thanks to its USB port, you remain completely independant in your choice of battery – the Øm3/u can be operated with any high-performance USB backup battery on the market, providing 2 amp output. However, if you should already own an external battery pack to charge your mobiles on the go, you now may also use it to run the Øm3/u.
The higher the ampere-hour rating of a battery, the longer the Øm3/u will run. Paired with the notstrØm (10Ah), this tiny power lamp will run 4+ hours and with the V'bee Select (13.6Ah) more than 5 hours – if all LED's are lit up with maximum brightness.
In order to prevent you from being left in the dark when the battery is empty, both – notstrØm and V'bee support you with a back-up power supply reserve. Turn on the lamp again and enjoy one extra hour of light in low brightness level.


More flexibility
The Øm3/u is equipped with a 40cm long coiled cable that can be extended up to 1m – making it the ideal solution for using as a bike light. An additional 1m extension cable ensures particularly flexible operation.
The coiled design saves space and resists kinks and tangles.
Traffic regulations vary from country to country!
You should therefore inform yourself carefully about the traffic and safety regulations in the country in which you are driving, as well as regulations governing the use of bicycle lamps. For example:
Riding on public roads in Germany with the Øm3/u lamp is not street legal according to the German traffic regulations (StVZO). Please enquire yourself about the traffic regulations that apply in your country.

durable
Made of Aviation Aluminium Alloy and waterproof in accordance with IPX6, the Øm3/u is designed to use even in rain.
so compact
It is so small that it fits in the palm of your hand. But don' t be fooled by its small size – this lamp is as bright as a car lamphead!
…and so cool
Most high-power LEDs can get extremely hot without good cooling. Since their efficiency and lifespan strongly depend on the ambient temperature, we have made cooling a top priority to the Øm3/u.
Thanks to the great passive cooling of the Øm3/u a minimal amount of air movement will be enough to keep the light cool enough to preserve its full lifespan, even at the highest setting.

Easy to operate
The illuminated blue push-button on the rear of the lamp allows you to circulate within four brightness levels. To meet your riding requirements, you can cycle through the modes LOW, MEDIUM, HIGH and ULTRA HIGH sequentially. From 100% ULTRA HIGH beam light, you can switch directly to LOW BEAM light that illuminates your path ahead without blinding oncoming traffic.
A long push switches off the light.
Easy to mount
The lamp is mounted within seconds, no tool is required. We provide two rubber O-rings for quick and easy mounting operation to bars of any size. The Øm3/u can also be used as a head- or helmetlamp.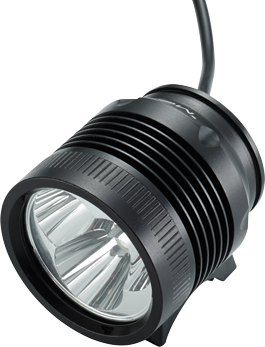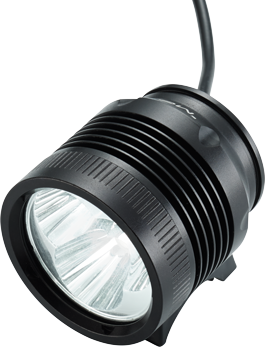 Tech Specs.
| | |
| --- | --- |
| Product Dimensions | 45 x 42 x 52mm / 1.8 x 1.7 x 2 inch |
| Cable length | 40cm / 16 inch extendible to 1m / 40 inch |
| Weight | 4.93oz / 140g with cable |
| Light Source | 3 x CREE XML2 |
| Material | 6061-T6 Aircraft Aluminium |
| Surface treatment | Type III hard-anodized |
| Brightness | 950 Lumens |
| Modes | 4 Modes LOW / MED / HIGH / ULTRAHIGH |
| Waterproof | IPX6 |

Operating Temperature
-4°- +140° F (-20°- +60°C)
Manual
French, Spanish, Italian and Japanese download here
Package Content

Øm3/u

lamp, two rubber O-Rings, one helmet mount, extension cord, manual in German and English
Compatibility

works with all 5V USB devices with a 2 Amp output port
Scroll
ZNEX verwendet Cookies, um Ihnen den bestmöglichen Service zu gewährleisten. Wenn Sie auf der Seite weitersurfen stimmen Sie der Cookie-Nutzung zu. Mehr Informationen
The cookie settings on this website are set to "allow cookies" to give you the best browsing experience possible. If you continue to use this website without changing your cookie settings or you click "Accept" below then you are consenting to this.